Community Cleanup Activities
Shunan City Community Cleanup
Tokuyama Complex participated in the community cleanup in Shunan City on December 14. This is a concerted effort by citizens, businesses, and government to create a clean and garbage-free town before "Shunan Winter Tree Festival Fantastic Night". This time, 64 people from Tokuyama Complex participated. Sweeping the fallen leaves, picking up trash, cleaning the park and roadside, our volunteers sweat a lot, but they were glad to be able to contribute effort for the society.
Keeping Ha Long Bay Clean! – 167 Employees Joined Beach Cleanup
On August 11, Idemitsu Lube Vietnam (ILV) conducted beach cleanup on the coast of Ha Long Bay, known as a famous World Heritage Site. This is the second beach cleanup activity in Ha Long Bay since 2014. On that day, 267 people, including 167 participants from the ILV and 100 volunteers from the Ha Long City Youth Union, picked up garbage while sweating under the scorching heat nearly 40°C.
Community Cleanup at Hiroshima Peace Memorial Park
On August 1, the government of Hiroshima City organized a community cleanup at the Peace Memorial Park. About 60 volunteers from our office in Hiroshima participated in the event. This cleanup activity is an annual event held before "Hiroshima Peace Memorial Ceremony" on August 6, in which a large number of companies in Hiroshima participating. In memory of the victims 75 years ago, the participants sent their thoughts and prayers before cleaning the park.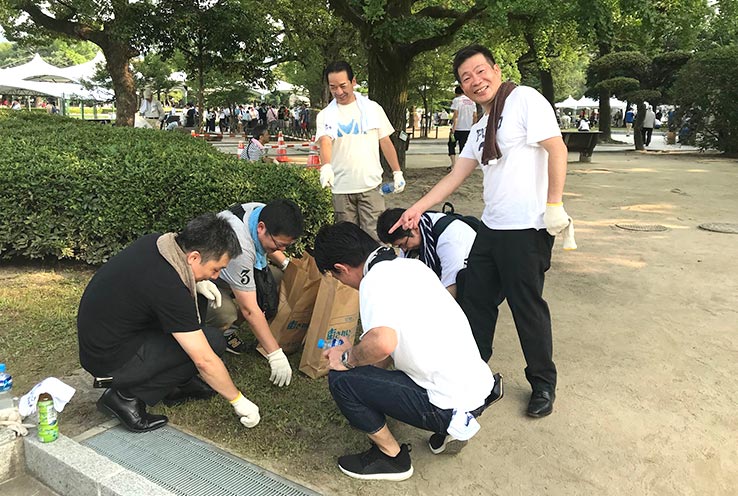 Protecting the Blue Sea for the Future!
On June 25, Aichi Refinery hosted a study group regarding environmental protection. This study group was held as an initiative to celebrate June, the "Environment Month". The study group, attended by 27 participants, was firstly promoted through Aichi Refinery internal newsletter, Asahi Minami Community bulletin board, and Nagoya Coast Guard Office's communication network.
On the day, participants were introduced to Idemitsu's environmental initiatives, followed by beach cleanup on Shin-Maiko coast near the refinery. Through this activity, participants became more aware of "prospering with the local community" and also learned about environmental conservation, compliance with agreed values, and appropriate waste management. Aichi Refinery will continue to organize beach cleanup regularly.
Keeping Kunitomi Town Clean!
Solar Frontier Kunitomi Plant carried out volunteer activities aimed at contributing to the local community. On April 13, participants disbudded plants Rhododendron at Kunitomi Hokedake Park to encourage better flower growth, and on April 27, they performed beach cleanup at Aoshima in Miyazaki City. Both volunteer activities were major events participated by 100-200 employees and their families. After the activities, they deepened fellowship by having barbecue and shellfish hunting.