Our recruitment theme: NEXT BREAKTHROUGH.* We are recruiting people who can challenge themselves and create new value together while respecting diversity. We make it a priority to ensure that employees are not mismatched after joining the Company by providing internships and contact points with close senior employees so that they can see what we really are. We are also working to raise employee motivation, improve the corporate culture, and expand our systems to improve employee retention.
In our recruiting activities, we have taken all precautions to prevent the spread of COVID-19. We have been holding online seminars instead of the traditional in-person company presentations and used web interviews to help make decisions. Moreover, we have also put in place thorough precautions during onboarding programs and trainings, such as introducing digital tools (webinars, online meetings, and e-learning).
* This message is posted on our new graduate recruitment website and elsewhere. The Company has developed a wide range of businesses to meet the needs of society and will connect the value and technology it has cultivated to ensure harmony between society and the global environment going forward. What will be indispensable to creating a new future is realizing the tremendous potential of diverse people. Drawing on the potential and ideas of people who hold a diverse range of values, we will continue to take on new challenges through NEXT BREAKTHROUGH.
Recruitment of New Graduates in April 2020
| Total | Men | Women | Percentage of women | Foreign nationals | Ratio of foreign nationals |
| --- | --- | --- | --- | --- | --- |
| 190 people | 163 people | 27 people | 14.2% | 2 people | 1.1% |
| | |
| --- | --- |
| New graduate retention rate (Average for newly hired employees between 2015 and 2017) | 89.0% |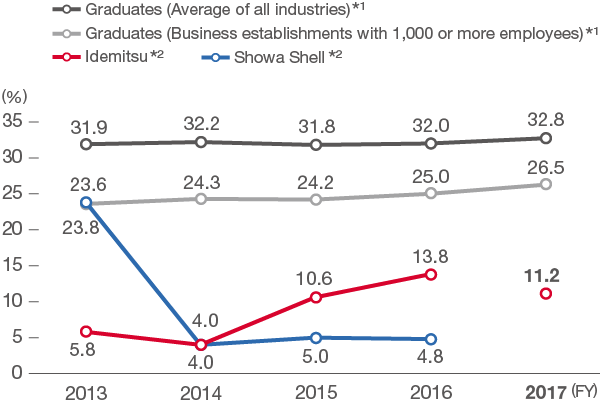 | | |
| --- | --- |
| Career Recruitment in FY2019 | 82 people |
Internships in FY2019
Season
Eligible students
Duration
Number of participants
Content
Summer
High school
1–2 weeks
88 people
Hands-on learning, mainly frontline experience (refineries, complexes, and the Lubricants Research Laboratory)
Summer
University and above
2–5 days
57 people
Work Experience of Engineers and Researchers (total of 7 courses)

Production engineering and manufacturing at refineries and plants
Functional materials research and product development
Functional materials technology sales
Performance materials research and product development
Lubricants sales engineer work experience at Shell Lubricants Japan
Research and development operational experience at the Technology Research Laboratory of Shell Lubricants Japan
Research and development

Winter
University and above
1 day (total 23)
918 people
Workshops to gain experience on office and technical operations
Hiring at Global Personnel
We support to create jobs in various regions in part by hiring staff locally at global bases. At the Nghi Son Refinery and Petrochemical Limited Liability Company (NSRP), we have provided the various opportunities of technical training and on-the-job training (OJT) to newly hired employees. Such locally hired staff have contributed to the refinery operation significantly. We will be committed to the transfer on the technical knowledge and experience to them continuously. NSRP is also collaborating with local educational organizations, government authorities, and households in an effort to enhance the life skills of our future personnel, and provide continuous personnel education, including scholarships to university students.