Holding Opinion Exchanges with Female Employees in Technical Fields
In February 2020, we held an opinion exchange with eight female employees in technical fields from the Group's complexes and refining companies. Because the small number of female employees in technical fields makes it difficult for them to network, we will regularly hold these kind of exchanges going forward with the aim of helping them network and share information. The inaugural exchange featured executive officer Michiyo Terakami, who talked about focusing on accomplishments, bringing people into your circle, and other important lessons that can be learned through work. A networking party was held afterwards at a restaurant Abiado on the 21st floor of the Daiba Office, allowing the attendees to gain a deeper understanding of one another while overlooking the city's nightscape.
Networking with Female Employees from Other Companies
The former company Showa Shell held a networking event for female managers and South Korea-based GS Caltex every year since 2017. The third such event was held in September 2019, and the newly integrated company expanded the list of invitees to include next-generation leaders. The event provided opportunities to network with people outside the company and from overseas, creating strong bonds with the aim of broadening people's minds and influencing future action. The participants fostered a sense of kinship among themselves, motivating one another to step outside their gendered boxes and take action enabling their own growth and activity.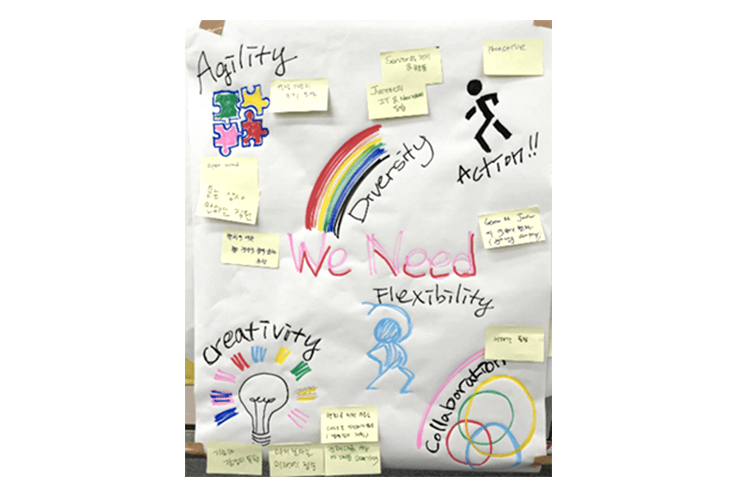 Female employee exchange meeting
'Ladies Meet Up @ Odaiba' was a gathering organized for female employees on January 17, 2019. This gathering was organized to promote interaction between employees of Idemitsu Kosan and Showa Shell, and to increase awareness on how to make effective use of individual capabilities in an ever-changing workplace environment. A total of 103 female employees gathered in Odaiba from various parts of Japan, while others joined the gathering via Skype.
In the first half of the event, 2 female executive officers, Ms. Terakami and Ms. Inoue spoke about their careers. The participants were inspired by the fact that Ms. Terakami and Ms. Inoue took up the initiative and overcame hardships to get to where they currently are, in spite of the fact that there were few females in power at that time.
In the second half of the event, the participants reflected on the contents of the talk given by Ms. Terakami and Ms. Inoue and tried to apply what they had learnt to their own situations. All participants actively participated in group discussions, openly sharing their thoughts and opinions, such as attributes that they would like to utilize and new challenges that they would like to take up in the future. Positive feedback was received from all participants, with some expressing that the gathering was a great opportunity to freely discuss about work and a good platform to think about solutions to solve issues in the workplace together. Other comments include an improvement in the level of interaction between Idemitsu Kosan and Showa Shell employees.