Treating CO2 as a resource, we promote carbon recycling by producing various carbon compounds from CO2 and reusing them for such applications as producing chemicals, fuel, and minerals. We are a member of the Working Group on the Roadmap for Carbon Recycling Technologies organized by the Japanese government, and is engaged in R&D on carbonate production and other technologies aimed at enabling the reuse of CO2 as a resource.
Carbonate Production
In tandem with Ube Industries, Ltd., JGC Corporation, JGC Japan Corporation and several universities, our company co-founded "CCSU (Carbon dioxide Capture and Storage with Utilization) Study Group" in 2019. This study group aims to promote an industry-academia collaboration to develop new technologies that convert CO2 emitted from thermal power plants and factories into resources by utilizing industrial waste with high calcium content. With the Japanese government promoting the development of technologies for CO2 recovery and other measures to combat global warming, we are working on technological development aimed at establishing methods for utilizing industrial waste containing high levels of calcium and other substances that react with CO2 to produce carbonates. By doing so, we strive to make CO2 a value-added material.
In July 2020, a project deriving from the study group was adopted by NEDO as a commissioned R&D project spanning five years from FY2020 through FY2024. Focused on the R&D of an accelerated carbonate production process employing calcium contained in industrial waste, including waste concrete, this project will take on the development of technologies for extracting raw material calcium from such waste and reacting it with CO2 contained in exhaust gas from industrial facilities in order to fix the carbon with the aim of commercializing and popularizing this process. Moreover, looking to assess the CO2 reduction effect of the accelerated carbonate production technology, we will test and evaluate it with the aim of improving the efficiency of calcium extraction and carbonate production as we strive to optimize the entire process and establish the technology.
Through our involvement in this commissioned project, we will play our part in industry-academia-government collaboration to develop new carbon fixation technologies that utilize CO2 emitted from power generation and manufacturing facilities. We will also step up our initiatives in fields ranging from raw material procurement to application development to achieve the social implementation of these technologies.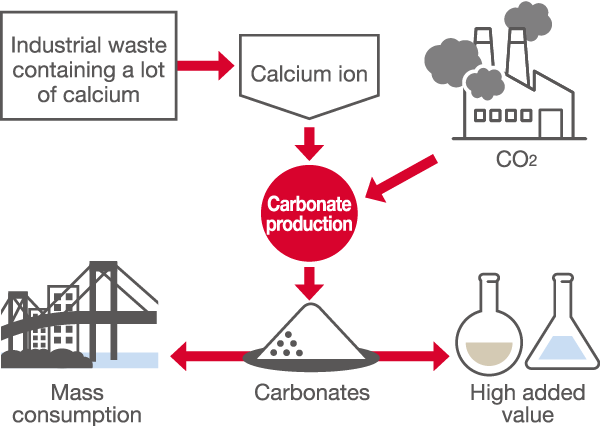 Our Unique Technologies for Reusing CO₂ as Resources
We have succeeded in the direct synthesis of methane and other hydrocarbons from water and CO2 using a gas diffusion electrode loaded with our original catalysts. Most competing processes for synthesis begin by dissolving CO2 in water to generate a reaction. Our unique process avoids this step by employing a gas diffusion electrode to stimulate a direct reaction with CO2 gas. We are currently striving to improve the properties of our electrode catalysts, such as their reaction performance, cost-effectiveness, and durability, as we work to develop a process capable of treating greater volumes of CO2.
Looking ahead, we will promote research into this technology with the goal of establishing a highly efficient process that is powered by renewable energy and produces hydrocarbons, alcohol, and other useful substances from CO2 by 2030. In these ways, we will promote the reuse of CO2 and contribute to a sustainable society.